Rental Prices: $5 per hour & $25 per day (business hours)
Bikes We Rent: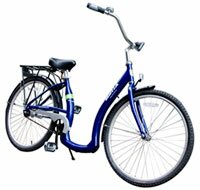 The Biria Easy Boarding Cruiser has redefined comfort in the bicycle industry. With its uniquely designed step-through frame, and its comfortable seating position, this bike has satisfied the needs for people who seek the ultimate safety and pleasure in riding their bikes. Equipped with a single speed and a coaster brake, The Easy Boarding Cruiser may be the most comfortable bicycle you'll ever ride.
For those riders wanting a more traditional bike, the Raleigh Adult Cruiser with 7 speeds is also available.